Myanmar News Updated
Highlight Myanmar News
---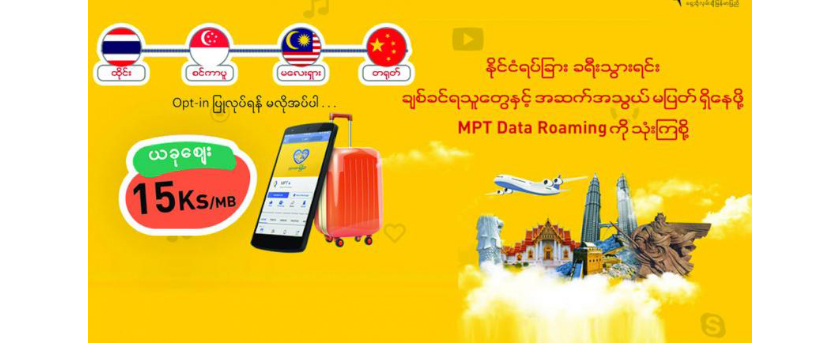 MPT to Offer New Data Plans for International Travel

19/03/2019
AUTHOR: SWE LEI MON
MPT has announced special international data roaming rates for customers travelling to other countries. MPT customers can stay connected with friends and family while they are abroad with promotional prices offering up to 99% discount on standard tariff.
Customers can access the special rate of just 15 MMK/MB as pay-as-you-go for 9 countries Thailand, Malaysia, Singapore, Vietnam, Cambodia and China (including Hong Kong, Macau, Taiwan)
Further, customers can reduce the tariff by buying a weekly package of only 900 kyats which offers the tariff of 9MMK/MB. This promotion is available for all MPT GSM/ WCDMA mobile customers.
"We are always happy and excite whenever we are about to introduce new promotions. With this special promotion, we can provide our mobile customers visiting Asia, Pacific and Western countries with a great value rate of up to 99% discount of original rate costing only 15 MMK/MB and 50 MMK/MB, without the restriction or inconvenience of choosing an international operator. Customers can now stay in touch with their beloved ones in Myanmar through online under this unique offering, with the simplicity of using their existing MPT SIM and Myanmar phone number. This is a very attractive action and we do hope to become effective product to our valued customers," said Mr. Reizo Umeda, Chief Commercial Officer of MPT KSGM Joint Operations.