Myanmar News Updated
Highlight Myanmar News
---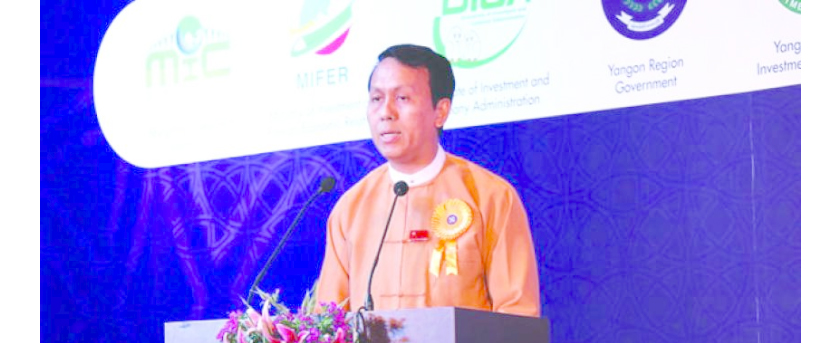 80 Priority Projects Unveiled by Yangon Regional Government

21/05/2019
AUTHOR: SWE LEI MON
Yangon's Regional Government has introduced to the public its plans for 80 priority projects in the Yangon Region. The initiative spreads across multiple sectors, including real estate, industrial zones, roads, ports, and other urban infrastructure developments. It is to be financed by the Yangon Project Bank, and hopes to evoke more participation from the private sector in these infrastructure improvements.
U Phyo Min Thein, Chief Minister of Yangon Region, said: "These projects are for the development of Yangon Region, and will further the entire nation's interests. We are prepared to start work using various project funding sources. These include the state budget, multilateral and bilateral development assistance, and public/private partnership schemes."
Among the 80 projects announced by the regional government are $8 billion for the New Yangon City Project, $900 million for the Yangon Outer Ring/Inner Ring Road Project, and $1 billion for the Eco Green City Project.
The projects will be jointly overseen by the Yangon Regional Government, Yangon City Development Committee, Yangon Region Ministry of Municipal Affairs, Union Ministry of Construction, and the Union Ministry of Transport and Communication. The field projects will include new city development, housing redevelopment, industrial zones, ports, aquaculture, agriculture, and education.
U Phyo Min Thein told us that although Yangon comprises less than one percent of Myanmar's land mass, it is home to ten percent of the country's population. It contributes a quarter of the nation's gross domestic product (GDP), and generates more tax revenue than all of the other regions and states. The total taxes Yaongon generated in 2016 was over K700 billion, and in 2017 it took in another K400 billion.
The Yangon Regional Government is also welcoming local and foreign investment in these infrastructure enhancements, recognizing the need to make use of expertise and resources found only in the private sector.