Myanmar News Updated
Highlight Myanmar News
---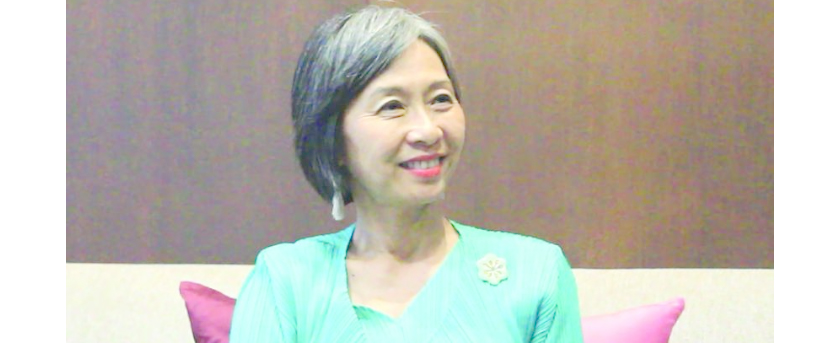 Introducing Thailand's New Ambassador to Myanmar

07/05/2019
AUTHOR: ANDREW P. JOHNSON
Thailand has appointed a new ambassador to Myanmar, and Myanmar Business Today has an opportunity to visit the Royal Thai Embassy and talk with the ambassador.
Who is the new ambassador? What does an ambassador do, and what would she like to tell the people of Myanmar? Let's find out.
We asked Madam Ambassador to fill us in on a little background information about herself. She gladly obliged, "My name is Suphatra Srimaitreephitak. People usually call me Su, because my last name is too long."
Thai people do have long last names, but not all of them. Those with shorter surnames have been in Thailand for a much longer period of time. Where the long surnames come in are usually with Chinese-Thais, people who are members of families who emigrated to Thailand from China a generation or two ago.
Ambassador Su continued, "I am the only child of my parents. I studied international relations and graduated in political science from Chulalongkorn University. Then I joined the Ministry of Foreign Affairs, took the exam, and passed into the foreign service. Then I got a scholarship from Fullbright Foundation, and continued my study at a graduate level in the United States of America. I was accepted by Ohio University in Athens [Ohio] to study International Development Studies, one of the subjects I was interested to learn more, because I believe that development is something that all peoples, all persons, individuals, or countries, populations would strive for, to have a better life, have a better world to live in."
We then asked Ambassador Su how she felt about her new position as Ambassador to Myanmar.
She said, "At first I was surprised because so far from the past we have had male ambassadors here. I am the first female Thai Ambassador to Myanmar. It's a pleasure and a pressure."
She went on to explain from her point of view how this position is both a pleasure and a pressure. She said, "It's a pleasure because you can start something that is quite challenging. It has been a pressure because, you know, we haven't tried the female ambassador working in this kind of environment, so nobody can tell me exactly what I am going to face in this country. It's an encouragement to do my best, to work harder to learn more about the country which is our neighbor."
From the educational background Ambassador Su described for us, and her desire to take on this new challenge head on, she looks well placed to serve as Thailand's new Ambassador to Myanmar. Some people may not be familiar with the role and responsibilities of an ambassador, so we asked her what those might be?
The Role of an
Ambassador
Ambassador Su said, "I think the first and foremost is to represent your country. You are a representative, I am a representative of Thailand here in Myanmar. So the responsibility is quite vast, ranging from taking care of Thai nationals here in Myanmar. Taking care means, making sure that they are not in trouble or in danger, once there is a problem for the Thai nationals living in Myanmar, we would take a role trying to see how we can help, how we can assist the families."
This is a fairly standard role for any country's ambassador, but Su went on to describe more, she said: "Another aspect of the work is for promotion of economic cooperation, and other kinds of cooperations like educational, investment, cultural. All aspects of cooperations that would enhance and foster strong relations between the two countries. It's quite broad, and involves a lot of people both in Thailand and in Myanmar."
Myanmar Business Today doesn't delve into covering politics in general, instead, we maintain a focus on business dealings. Since an ambassador takes the lead in economic cooperation between countries, business people would logically have an interest in who Thailand's new ambassador is. The relationship between the two countries is an important one as you will see.
Thai-Myanmar Relations
As the incoming ambassador to Myanmar, Is there anything specific that you would like to tell the people of Myanmar?
The ambassador said: "I would like to show my smile. With a smile, you make good friends. It will show that you are open to others. I am open to Myanmar friends. Our embassy welcomes all people, any circles of people in Myanmar. We believe that our cultures, with our way of living, Thai and Myanmar people are very close. We even use the term natural strategic partners, not because we have a long border between each other, 2,400 kilometers, but natural strategic partners covers all aspects of the two countries. Religion, culture, food, fashion, and entertainment — all aspects. We have more and more Myanmar tourists to Thailand, and Thai people fly to Mandalay and Bagan to see the beauty and heritage of Myanmar. I think we have so many things in common, but still we can share our cultures and our good things that we have had. This is something that I would like to say out loud, that we can be friends forever."
As natural strategic partners, the two countries share many common traits as Su mentioned. It's perhaps one reason why Thailand and Myanmar just celebrated 70 years of diplomatic relations, and we asked what that means to her and Thailand.
She said, "The number is a proof of our long standing relations. It was 70 years last year. It would make us proud of what we have been doing together as neighbors, as members of ASEAN. It has reflected a good spirit and it would give us some kind of encouragement and good will to continue doing more and more in the years to come."
The two countries also have an important relationship in regard to migrant workers. A large number of Myanmar nationals work and live in Thailand, approximately 3 million. In February 2019 alone, over 22,000 migrant workers from Myanmar went oversees. Most of them went to Thailand. We asked her thoughts on this as well.
She said, "I think the foreign workers in Thailand is a very common phenomena, because in ASEAN countries we allow and promote the free movement of people. Our Ministry of Labor is aware of foreign works in Thailand, it's not only from Myanmar, it's also from Laos, Cambodia, we even have Filipinas working in the cafes in Thailand. This is a very normal and natural among the ASEAN countries that we have this cross country labor."
"We would be aware of the downsides of this, some kinds of problems, that could be caused by misunderstandings, with agencies or brokers. We try to have procedures in place according to the laws and regulations in Thailand. I think that our laws and regulations also protect foreign workers in Thailand sufficiently. We would hope that we can encourage the movement of people, not only in ASEAN countries, but to the outside world as well."
Lessons Learned and Passed On
Switching gears a little, we asked about how her thoughts on the current economic situation in Myanmar.
Madam Ambassador said, "I would say they [Myanmar] are on the top of the hill where they can jump or hop from one summit to another summit. I think they are preparing for the whole country, with a very high number of ethnic groups, 135 ethnic groups. They have to be united together, and I see that there is a signifiant sign of that [being united] with what they launched, Myanmar Sustainable Development Plan (MSDP). I think this is a very big step that Government of The Republic of the Union of Myanmar is taking. I think that they are trying to get ready for this good jump in their own quest for development."
Indeed, Myanmar has great potential for improvement in many areas including economically. How can Thailand, or the embassy, support businesses in Myanmar during this period of rapid improvement?
Ambassador Su,  "Our Thai private sectors have experienced ups and downs in the last decade. In 1997 we had a very big financial crises. They even called this crises, 'Tom Yam Kung Crises'.
"We were hard hit by this financial crises. Our private sector adapted themselves a lot. Some lost their business, or even their family. We learned in a very hard time. We thought that this is something we should share with Myanmar, our neighbors, there is another path that you don't have to take like us. Since we have recovered from the financial crises in 1997, we have proved to the world, that once you collapse you can also stand up again. With the strength we learned, we can also tell others what they can do for their own path. I think that for the Royal Thai Embassy in Myanmar. We would like to see how we can share our experience, both good and bad, so that they [Myanmar] would be able to create their own path of economic development, and also social cohesion.
We have successfully implemented, what we call the philosophy of sufficiency economy, introduce to Thai people by the late King Rama IX Bhumibol Adulyadej.
We would like to also show to Myanmar people, that with firm belief in this philosophy, you will find ways and means to be able to develop in all aspects in a sustainable manor."
Specific Items
Considering the close ties between the two countries, and the large number of migrant workers and increasing number of Thai tourists, the ambassador was compelled to talk about currency.
Ambassador Su said, "I would like to pinpoint one thing that which would be very helpful. I think that at the moment, that the government of The Republic of the Union of Myanmar, is preparing themselves to have a leap in development. One thing that they are doing is to liberalize, to open up more to business from abroad. I would hope that Thailand would always be there for them, and we would be able to have a closer cooperation. One thing that it would facilitate, this closer context from the business from to sides, is to allow Thai baht (THB), the currency of Thailand, and Myanmar kyat (MMK) to be the currency that we can exchange directly for the transfer for the settlement of economic transactions. So far we know that the Myanmar government allows the U.S. (USD) and Singapore (SGD) dollars, and recently, Japanese yen (JPY) and Chinese yuan (CNY) to be converted directly to Myanmar kyat.
So we would like to have a direct exchange between Thai baht and Myanmar kyat. Otherwise you have to exchange Thai baht to U.S., and then U.S. to kyat and vice versa. It would be very helpful for closer economic ties. Now we have like three million Myanmar nationals working in Thailand. We would have more of them, and more Thai nationals would come here for tourism industry here. So we would like to the see the currency no continue to be a difficult obstacle in this backdrop."
So there you have it, an introduction to Thailand's new Ambassador to Myanmar. Hopefully this will give you a nice preview of the new ambassador and what we might expect to see from her in the coming years.