Myanmar News Updated
Highlight Myanmar News
---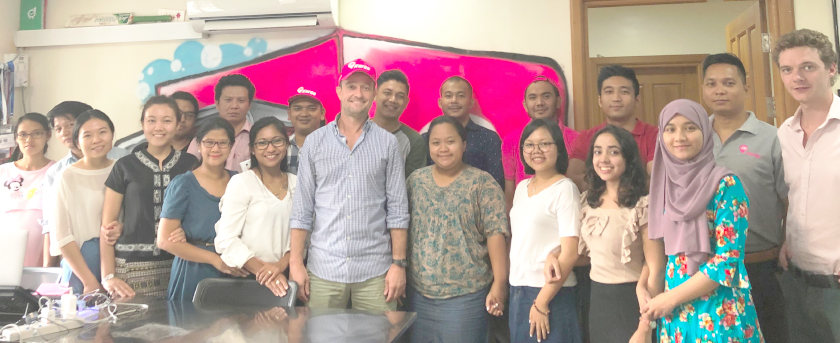 Kargo Aims to Simplify Your Business Logistics

07/05/2019
AUTHOR: NICHOLAS ONEGA
Myanmar continues to be one of Southeast Asia's fastest and most exciting economies. This creates an exciting environment for business startups of all types. Kargo, a Yangon-based company founded in 2016, is one startup that has flourished in these conditions.
Since the company was established by Alexander Wicks, they have streamlined logistics for over 500 businesses in Myanmar. Myanmar Business Today had the opportunity to meet Mr. Wicks, who is currently serving as the CEO of Kargo, and to learn more about his company, motivation, and outlook for the future.

Alexander Wick, CEO of Kargo
Wicks is not new to Southeast Asia and has accrued over ten years of experience in the region, having worked in Singapore, Vietnam and Japan. He has lived in Myanmar for the last six years, working with companies to improve search engine optimization (SEO), web development, and digital marketing.
However, we were curious to learn what motivated Wicks to found Kargo, which is focused on logistics. He told us: "My background got me thinking. Because of my tech experience, I looked at Myanmar from a tech prospective; I saw opportunities that could come out of it."
He added: "A few years ago, there was a big boom in the sharing economy. Companies such as Uber and Airbnb were really taking off. This became a real interest of mine. I was fascinated by how we could develop businesses by using excess capacity. Once the internet really 'switched on' in Myanmar, you could see the tech world was really starting to emerge. My background in digital marketing, SEO, and web development kept me interested and in touch with what was happening in the tech world; I think that's what led me to starting a tech company."
At this point, readers might be thinking: how is a logistics company a tech company? Wicks went on to explain: "Kargo is essentially a tech company. We're a tech startup, just in the logistics industry."
He explained: "It happened by first observing what was happening in the region. There are a few people doing the on-demand man-with-a-van pickup and delivery in the inner city. After doing a bit of research on the street, and talking with some local Myanmar friends about how truck drivers get jobs and orders, I found that it was very much by sitting on the street, waiting for their father, uncle, or brother to call a friend or until someone walked past and asked for a truck. I saw there were so many empty trucks going around.
"So that was what pushed me to do a bit more thorough researching about logistics. This helped me to see that one of the main core problems with businesses is logistics: trucking, supply, reliability, transparency. That was how I connected them together."
At this point, we were interested in learning more about the logistics side of his company, we asked Wicks what type of service Kargo offers. He told us: "When I first started, I wanted to do on-demand pickups for anything – couches, residential moving, office relocation, anything really. But within three to four months, we realized that was a hard market to do because the lowest grade truck you can get is a [Daihatsu] Hijet, and to move just an e-commerce product for example, from one side of the city to another, the minimal service fee to rent the truck is K10,000-15,000. People are buying things for K15,000; obviously, they're not going to pay double that just to get it delivered.
"The other problem was with the payment gateway. People want cash only. So, we shifted into [working for] bigger businesses. I learned that bigger businesses had a real unreliability problem with the services of their trucks. Now we are near 100 percent B2B. All our resources, time, funding, hiring – everything is focused on large-to-medium-size businesses and SMEs."
Although Kargo focuses most of their efforts on business-to-business [B2B], Wicks added that they will fill business-to-consumer [B2C] orders. "We still do take those smaller orders. We don't say no, but our core focus is the B2B market. In some ways, it's much easier. Although you're doing big loads – for trucks, lots of loading time, unloading time, warehouse logistics, completing a long haul in Myanmar can take a couple of days; then they have to unload and wait for a refill to come back. The ticket size of the trucks is much higher."
The average Yangon-to-Mandalay shipment for a large truck can be anywhere between K750,000-850,000 for a single truckload. Mr. Wicks explained: "Once you get these larger-volume orders, which can become regular orders, big businesses don't do on-demand one-time shipments in a 22-wheeler truck; they will do ten of them every day to the same warehouse. So that's the core focus, and when we shifted to that, our contracts, revenue and orders really started growing fast. We went from a really small amount of revenue a month to an increase of 1,000 percent in revenue."
Since most of Kargo's business has been B2B long haul container orders, this raised a question about whether Kargo fills cross-border shipments. Wicks answered by first discussing the large international businesses they service.
"We work with big international companies," he said. "They are some of the biggest companies here in Myanmar. The demand for volume is there, and the demand for them trucking cross-border is comprehensive. Phase One was to get the four main corridors in Myanmar established – the product and the market. We want everybody to be comfortable with our service and know who we are, and we, of course, want them to be very happy with it. We are close to getting that fully established. Once it is, then we will go cross the borders, and get the trucks coming down through Mandalay and into Yangon."
The demand for cross-border shipment is mostly from international companies. Wicks told us that companies would often ask questions like: "Can you do cross-border? Can you go to Bangkok?"
Requests of this nature were becoming commonplace. "We couldn't just keep saying no," Wicks explained. "So we started doing it. We've been testing it out now for a couple of months.
Wicks told us that going through the corridor to Bangkok and then up to the border of China is going to be Phase Two.
Recently, Myanmar and Thailand completed the second Friendship Bridge, which is located at the Myawaddy border crossing near Mae Sot, Thailand. Wicks highlighted how important the new bridge is by describing it as a "great opportunity for future cross-border shipments, and it will raise the amount of volume that can cross the border."
Continuing our conversation, we learned that Kargo's platform is quite large, with over 2,000 trucks. This enables Wicks and his team to go out and do traditional business development. He gave an example. "We sit down with the businesses and figure out what their needs are. If they say they need these many trucks for these many days, and it's from this warehouse to that warehouse, then we'll go out and recruit the trucks needed."
As the very term implies, logistics are by nature complex. We were curious to learn about the challenge that Wicks faced in starting Kargo. He told us: "Payment was a challenge, especially when we were doing B2C. Since our drivers are now mostly nationwide, we pay them digitally. It's fine in the B2B space; because these companies all have bank accounts, they invoice traditionally. Sending the money to the drivers, that's always been a challenge. We've got a good system going now. Whenever we have new drivers, if they don't have a bank account, we help them get one set up."
As with any business, long-term growth and development is always an important concern. "The ultimate vision of Kargo is to build better logistics firstly for Myanmar. Because of Myanmar's amazing location, next to countries like Thailand, Laos, China, India, and Bangladesh, we want to build a better connection with these countries."
A part of Kargo's vision Wicks told us, "is not only to connect cross-border transit, but also to look at ways of connecting other regional countries' corridors. Improving logistics there will only strengthen Myanmar and these countries."
Kargo has seen amazing growth and international support. In fact, last week they announced new financing via a $800,000 pre-series A round. It was led by Cocoon Capital, a Singapore-based, early-stage venture capital fund alongside two business angels.
Wicks and his in-house team have also developed a comprehensive web and mobile app, as well as a state-of-the-art logistics platform creating an end-to-end infrastructure for organizing both short- and long-haul trucking. In addition, Kargo received the GSM Association Ecosystem Accelerator Fund grand, and won the Seedstars Yangon 2017.
The startup also represented Myanmar on the world stage at the Seedsters Summit 2018 in Lausanne, Switzerland, and was named "Best Logistics & Supply Chain Startup" at the Echelon TOP100 competition in Singapore that same year. Pursuing further development of its platform, Kargo will be using the new funds to expand to markets along Myanmar's borders in the next twelve months.
"The Myanmar freight market is expected to grow by 300 percent in the coming years. With such a fragmented logistics market, our platform simplifies trucking through one simple dashboard that manages shipments both across Myanmar to other markets in the region," said Wicks.
Kargo recently announced a partnership with Yoma Bank and became the first business in Myanmar to join the Unsecured SME Financing Scheme. With this influx of funds, Wicks and his team aim to facilitate and implement unprecedented same-day payments to truck drivers on the Kargo platform, boosting their ability to grow their driver and user base, and to manage invoices.
After our lengthy interview with Alex Wicks, we look forward to meeting with him again in a year or two to review how far all these exciting developments have expanded Kargo's corporate interests, and how it has also enhanced business growth for all of Myanmar.