Myanmar News Updated
Highlight Myanmar News
---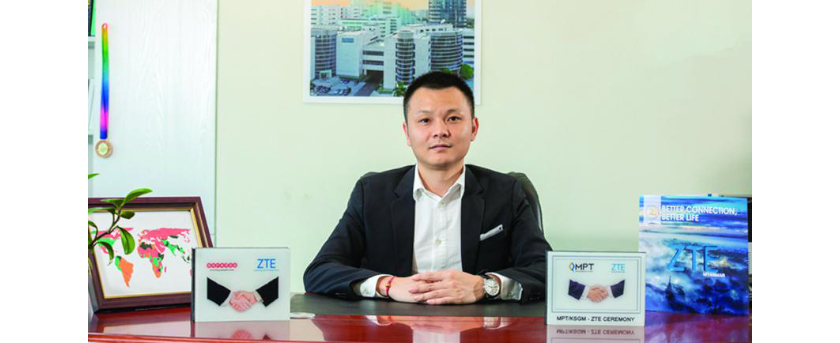 Exclusive Interview with ZTE Myanmar CEO

09/04/2019
Headquartered in China, and established 1985, ZTE is one of the largest equipment providers in the country. ZTE provides equipment and services needed for high-speed internet across the global.
In addition to supplying equipment and services for the Myanmar telecom market, ZTE has been paying much attention to their Corporate Social Responsibility (CSR) and making efforts to contribute to the Myanmar communities. One of these developments is the Campus Shining Project, created to enhance the education and growth of the youth in Myanmar. With some of the largest universities in Yangon and Mandalay already on board.
Myanmar Business Today had the privilege of sitting down with Mr. Yan Xiao, CEO of ZTE Myanmar. During the discussion Mr. Yan Xiao revealed the Telecom Equipment Company's exciting plans for Myanmar's younger generation as well as the future of 5G within the county.
How did the Campus Shining Project initiate?
The younger generation in Myanmar have a very good attitude. They study and work very hard. Unfortunately, however, many students only learn from books and paperwork. We want to support them and show them what it's like to experience real work while giving them an opportunity to practice real life on the job skill.
What is the Campus Shining Project?
It's a stage built by ZTE between the top Myanmar universities and telecommunication operators, it is designed to train and educate students. We have already completed our first-year trial and are very pleased with the results.
The project consists of three steps. The first stage is an internship program. Students will intern at one of ZTE's seven offices in Myanmar. During this stage they will be able to explore career paths, refine their skills and gain confidence in a real-work setting.
The second step is training. ZTE will invite colleagues from China, America and Europe for quarterly trainings. This will help the students learn about the latest technologies and network with professionals in the field. Although some of the technologies they will learn about are not yet in Myanmar it will help the students to stay up to date on the current technological trends and give them an edge in the job market.
The third step is our innovation centers. As a global, high technology company, ZTE collaborates with the four major Telecom operators in Myanmar. However, we don't want to just share our technologies, we want to allow the younger generation to practice before they join the workforce. This is where our innovation centers come in. After completing the second step of their training, the students will be able to collaborate with a real operator,  through our innovation centers. In this way we will be branching the gap between the younger generation and the major operators in Myanmar, contributing to the industrial community.
After successfully passing these three steps of the Campus Shining Project, students will receive a certificate of completion.
How will the Campus Shining Project help Myanmar?
In Myanmar the younger generation is very important for the future stability of the country and region. They are very smart, and the average working age is very young. This is why I believe this is the future and a way for Myanmar to open its doors to the world. I believe that education, of course, is number one. It's important to give this technology to the younger generation and to support them.
Currently in Myanmar, most of the project directors in telecommunication are foreigners.
This is because it's not easy to find a local candidate in this country. This is why we want to focus on developing students now and give them the training and opportunity to explore their potential.
On a different note, what can you tell us about the future of 5G in Myanmar?
ZTE has been in Myanmar for over 20 years, we built Myanmar's 2G, 3G, 4G and even have been working on the pre 5G. We know this market very well because we've been working here for so long. Frankly speaking, 5G is a little early for this market. Currently, 4G in the country is at about 45 percent; it's in the cities and townships but not further.
We plan to make a couple of test sites for 5G,and will discuss with the Telecom operators the locations of these first 5G networks. By mid-2020 we expect 5G to be launched across Myanmar cities.
How will 5G help the Myanmar people?
First, when applications are used, they normally include HD content. 5G will be able to process this very quickly.
Second, many people are now getting online training. To download a movie in 5G will take only seconds. It is very efficient, and the potential is very good. For example, I am Chinese. When I want to speak with my family, video quality is very important for me so I can see my wife and children.
Also, in China, they now have buses without drivers because they are run with the internet. 5G is what makes this possible. I do not need to bring my wallet with me in China because I can access everything I need with my phone. There are restaurants with no waitresses because you can order food through your phone. I can pay my utility bills through my phone. 5G makes this happen efficiently and safely.
Myanmar has potential to be like this. As companies join together, there will be many, many more applications in the future which will be improved with 5G. ZTE is committed to supporting the growth in this country, especially in the telecommunications field.
What is your vision for the future of Myanmar?
Our vision for Myanmar is to support the younger generation and contribute to faster and efficient development. We want to enrich students' lives while letting them enjoy the latest technologies. We also want to support the operators and other partners here by using the leading technologies, including 5G, to build a better connected Myanmar.