Myanmar News Updated
Highlight Myanmar News
---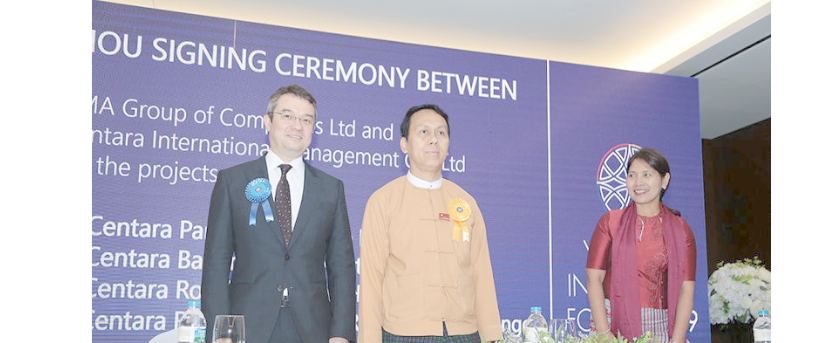 Thai, Myanmar Hotel Operators Sign MOU for Myanmar Hotel Projects

21/05/2019
AUTHOR: TIN MG OO
Centara Hotels & Resorts and KMA Hotels Group, a subsidiary of Kaung Myanmar Aung (KMA) Group of Companies, have announced the signing of a MOU to begin the development and renovation of 6 hotels located at some of Myanmar's most popular tourist destinations, all to be managed under Centara brands. Work on the project will begin in 2019.
This project will see three of KMA Hotels' existing properties located in Naypyitaw, Bagan and Taungoo undergo refurbishment prior to reopening, and the development of 3 new hotels in Bagan and Than Daung. All six hotels will operate under the upscale and upper upscale Centara and Centara Boutique Collection brands.
The deal marks Centara's entry into one of the world's fastest-growing tourism markets and enables the company to secure a major Myanmar foothold.
"Our partnership with KMA Hotels represents a significant milestone for Centara," said Thirayuth Chi-rathivat, Centara's CEO. "It gives us the opportunity to establish a significant presence for Centara in a country with huge potential for tourism development, and we are looking forward to contributing to Myanmar's development while providing travelers with more options to enjoy our Thai-inspired, inter-national standard of hospitality across a variety of destinations."
KMA Group of Companies is a privately held company founded and led by Chairman U Khin Maung Aye, Chairman of CB Bank. The Group comprises 15 corporate entities operating across a diverse range of in-dustries.
"We are delighted that Centara will be bringing their management expertise and strong brand to six of Myanmar's most popular destinations," said U Kaung Htet Tun, Managing Director of KMA Group. "My-anmar shows great potential for tourism growth, and Centara's presence here represents a step forward for the Hotel and Tourism industries."
Myanmar is the second largest country in Southeast Asia and boasts one of the region's fastest-growing economies. The country's tourism sector is well-placed for a sustained period of growth; the country's anticipated tourism growth rate of 8.5% annually through 2025 puts Myanmar at the top of the world's fastest-growing tourism markets. According to the Ministry of Hotels & Tourism, there was an estimated 3.4 million visitors and almost $2 billion in tourism revenue in 2017, as well as an estimated $4.3 billion invested in hotels and commercial complexes, with over 60% of investment coming from Singapore.
The six Myanmar hotels are proof of Centara's expansion strategy, which calls for doubling the number of properties under its management by 2022, and the complementing expertise of Centara and master de-velopers KMA Group are set to elevate the Myanmar hospitality scene.