Myanmar News Updated
Highlight Myanmar News
---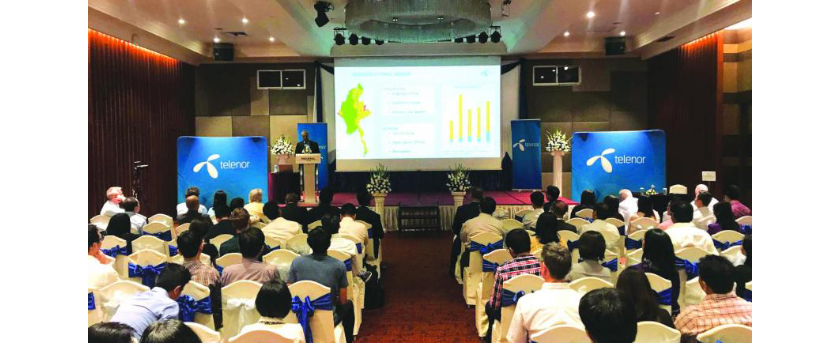 Telenor Holds Sustainable Business Briefing

02/04/2019
AUTHOR: EI THANDAR TUN
Telenor Myanmar hosted its 6th annual sustainability briefing to present an update on its ongoing and new sustainability initiatives within Myanmar. The presentation focused on key sustainability areas contributing to sustainable and responsible growth as Myanmar moves toward digital society. Key initiatives include Mobile Connectivity, Impact on Economy, Supply Chain Integrity, improving Safety, Operations in Ethnic Areas, Tackling Hate Speech and Empowering Society.
Telenor Myanmar is also committed to UN Sustainable Development Goals. Telenor Youth Forum is an example of Telenor's effort to reduce inequalities where bright young minds across the world gathers to solve and tackle challenges surrounding inequalities. Telenor also recently extended global partnership with UNICEF for another three years to reducing inequalities among children.
"At Telenor, we focus on responsible business practices across all of our markets. We work systematically to address risks and to maximise the positive impact of our business. Doing business the right way is important for market like Myanmar and we have made sure that all of our services are presented to the public in a safe and sustainable way. Telenor Myanmar has been raising standards in all its suppliers. Today, Myanmar is no longer a greenfield market but the growth of the market needs guidance from proper rules and regulations. We all need to work and listen closely to business practices around Myanmar because transparency and responsibility is not just the right way to do business but the only way. I believe that our approach in sustainable business is improving year after year", says Sharad Mahrotra. CEO of Telenor Myanmar.
Telenor Myanmar's annual Sustainable Business Briefing is also part of the company's commitment to be open and transparent on business opportunities, sustainability challenges and key issues presented in Myanmar.
A recording of the presentation and relevant materials will be made available on Telenor's webpages. Key Highlights of the briefing include the following.
Connectivity. Telenor Myanmar network covers more than 92% of Myanmar population with network footprint in almost all states and region. The company now possesses Myanmar's largest mobile 2G/3G/4G network with more than 8,600 sites nationwide and 100,000 points-of-sale across all states and regions.
The year 2018 has been a race to cover 4G services as much as possible. Telenor 4GSuperLTE+ has covered more than 90% of townships (306 Townships) in Myanmar with high speed and award winning 4G services.
In April 2018, Telenor successfully conducted a joint network speed trial in collaboration with Ericsson and achieved the record-setting fastest internet speed of 1 Gbps on its 4G/LTE network showcasing Telenor's commitment of 5G readiness in Myanmar.
Impact to Economy. Telenor has invested over USD 2.7 billion in building its network providing strong economic benefits to society at large.
Telenor Myanmar was honoured as the top taxpayers for 2017/18 tax assessment year in Myanmar by the President of the Republic of the Union of Myanmar, U Win Myint. From inception to date, Telenor has paid more than K 241 billion Corporate Income Tax and more than K 81 billion Commercial Tax. The company has contributed more than Kyat 441 billion to Myanmar government under various tax categories.
According to Frontier Economics study, the telecom sector contributed to around 1.2% of Myanmar's GDP where Telenor Myanmar has contributed half of this. The report highlights the significant positive effect that Telenor and the telecom sector has on Myanmar through the value of services sold, creating direct and indirect employment, raising economy-wide productivity, and contributing to government revenues through taxation as the largest taxpayers in the country.
In 2016, Telenor partnered with Yoma Bank to create Wave Money, number #1 mobile financial service provider in Myanmar. In 2018, Wave Money customers transferred a total of 2 trillion kyats, or USD 1.3bn, estimate 2% of Myanmar's GDP.
Telenor's social responsibility programmes have positively benefited nearly one million people in Myanmar, through our largest digital skill and health programmes.
Supply chain Integrity. From 2014 until 2018, Telenor conducted more than 14,000 on-site inspections to ensure compliance. About 99% of these inspections were unannounced. In addition, suppliers also run their own parallel inspections to ensure compliance with Telenor's standards. Over 18,000 have been completed as of the end of 2018, with total of 32,000 inspections throughout the supply chain.
The rate of site-based major findings declines to negligible levels in both 2017 and 2018. • During the inspection on the sites, Telenor did not detect a single case of child or underage labour in 2018.
Improving Safety. In late 2018, Telenor Myanmar initiated rigorous nationwide transport safety policy which all suppliers and vendors were to signed safety pledges and committed to follow safety rules and use helmets, life jackets and seatbelts.
An important part of the policy is a zero tolerance to non-compliance and a sanctions programme that are designed to protect our employees' and suppliers' employees' lives and avoid injuries.
To date, Telenor has provided transport safety training to nearly all 300 field employees and over 2,000 suppliers' employees.
Authority requests & Cyber Law. To date, Telenor received 188 formal requests for release of historical communication data and has complied with only 88 out of these requests via Posts and Telecommunications Department.
Since inception, Telenor has not received any requests for network shutdowns, censorship, or blocking.
Telenor and its partners have been supporting the government in capacity building on the Cyber Law and participated in all industry-wide roundtable discussions and consultation. In August 2018, Telenor Group, Telenor Myanmar, Amazon Web Services and the Myanmar.