Myanmar News Updated
Highlight Myanmar News
---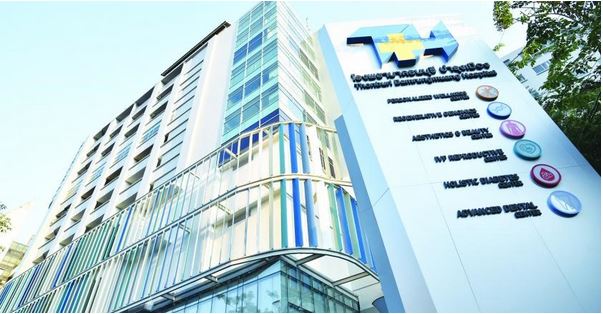 Thonburi Healthcare Group Opens Its Latest Medical Centre

20/02/2019
Thonburi Healthcare Group (THG) has announced the opening of its latest medical centre, Thonburi Bamrungmuang Hospital on Bamrungmuang Road.  This specialised healthcare centre, a four-billion baht investment, comes with a six-star standard of personalized care and equipped with a comprehensive array of medical technology.  The Centre is staffed by a team of experienced specialists catering to the growing aging population and medical tourism from Asia. 
THG has over 40 years of experience in hospital and healthcare centre management.  The Group operates hospitals in Bangkok and other provinces, delivers hospital management services, provides holistic healthcare as well as runs medical equipment companies and other supporting businesses.
Dr. Boon Vanasin, Chairman of the Board of Thonburi Healthcare Group Public Company Limited (THG), said: "The opening of our Group's latest medical centre supports the government's policy of establishing Thailand as an international medical hub.  As people become more health conscious and with an aging population, there is a demand for comprehensive healthcare centres like Thonburi Bamrungmuang Hospital.  Consumers are looking for quality service, faster diagnosis and specialised medical care which we can provide."
In 2016, the Government implemented a policy which aims to make Thailand as an international medical hub within 10 years or by 2025. THG sees this policy as an opportunity for the Group to expand its businesses in Thailand and plays an important role  to attract medical touris.
This six-star specialised medical and healthcare centre delivers personalised care suitable of the medical care each patient receives.  This will be backed by a team of specialists and advanced medical technology, providing a new healthcare alternative for the customers.  Thonburi Bamrungmuang Hospital has six centres.  They are included.
Personalised Wellness Check-Up Center is a one-stop centre that provides personalised health check-up plans, which will enable our experienced medical professionals to create optimal medical plans for each individual.
Regenerative & Genomics Center provides cell therapy, regenerative medical services, and anti-aging treatments, administered by medical specialists in collaboration with a research institute in the U.S.A.
Aesthetics & Cosmetic Surgery Center offers a range of cosmetic and reconstructive surgery procedures, including facelifts, laser skin treatments, facial reconditioning treatments, face shaping, breast augmentation, and many more.
IVF Reproductive Center provides infertility treatments using assisted reproductive technology of international standards under the supervision of medical specialists and embryologists, with an emphasis on patient participation in decision-making and in selecting suitable and safe treatments to increase pregnancy chances.
ThonburiDiabetic Wound Care Center employs a range of advanced medical innovations, such as hyperbaric oxygen therapy and acellular dermal substitutes, to treat patients with diabetic wounds in their feet .
Digital Dental Center offers a one-stop comprehensive dental care, ranging from dental examinations, treatments, and X-rays to dental prostheses and appliances, all finished in one day using the cutting-edge CAD/CAM 3D dental technology.
The opening of Thonburi Bamrungmaung Hospital will further enhance the reputation of Thailand as a major medical tourism hub.