Myanmar News Updated
Highlight Myanmar News
---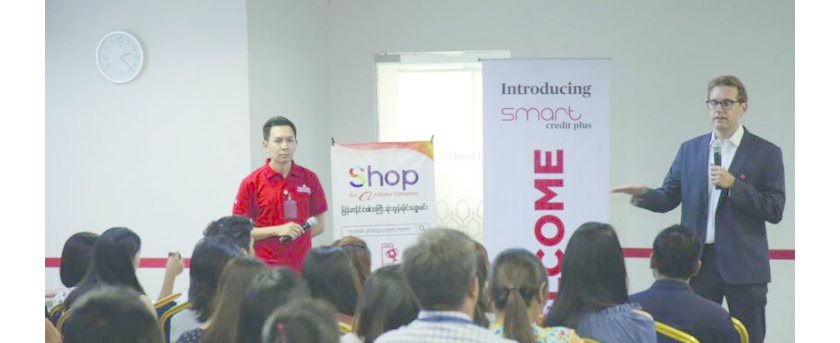 Yoma Bank to Provide Digital Small Business Loans to Shop Sellers

15/05/2019
AUTHOR: EI THANDAR TUN
Yoma Bank has just partnered with Shop (shop.com.mm) sellers via their latest unsecured small business loan product, SMART Credit Plus. SMART Credit Plus was unveiled earlier this year when Yoma Bank entered strategic partnerships with Wave Money and the Union of Myanmar Travel Association (UMTA), offering SMART Credit Plus loans to their agents and members.
Currently, SMART Credit Plus is available only to merchants and agents of Yoma Bank's corporate partners. Shop has now become the third corporate partner to work with Yoma Bank in offering this loan product to its merchants.
Through this partnership, Shop sellers will now be able to apply for SMART Credit Plus loans through an online platform. They will not need to physically go to a branch, nor will they need to provide collateral, guarantors, or extensive documentation.
Jason Loughnane, Head of Digital Credit at Yoma Bank, said: "Yoma Bank is excited to support shop.com.mm's merchants. By selling through shop.com.mm, they've already demonstrated that they are digitally and financially savvy, and we're happy to help grow their businesses through the bank's digital credit product. Once they have a SMART account, merchants simply apply for a loan through their smartphone, with no collateral or guarantors, and receive money in just one business day. SMART Credit Plus rewards merchants with larger loan offers as they sell more goods through shop.com.mm, and as they repay their loans on time."
A digital credit product like this, specifically designed for small businesses, is the first of its kind in Myanmar. The application process is convenient, private, and fast. Online applications are reviewed instantly and funds are disbursed to the applicant's SMART account the following business day. Moreover, SMART Credit Plus customers are being trained to form healthy credit habits, and to make their repayment installments on time.
To obtain an unsecured small business loan through SMART Credit Plus, an applicant must be an official seller with Shop, as well as a current user of Yoma Bank's mobile banking application. Applicants who are not current users of the Yoma Bank mobile app will need to open SMART accounts, which can be done at any branch location or online through the Yoma Bank web site. Applicants who already have the proper account type, and who are users of the Yoma mobile banking app, can apply online.
First time applicants can choose loans ranging in size from K100,00 up to K5,000,000 on a 12-month term. Once received, applications will be assessed by Yoma Bank based on the customer's transaction history with Shop. The maximum credit offer can be increased depending on the applicant's volume of transactions through the Shop storefront, as well as an on-time repayment history with Yoma Bank.
The interest rate on SMART Credit Plus loans is 16% per annum, and fees are applied based on the applicant's banking history with Yoma Bank. Monthly repayments will be automatically deducted from the applicant's SMART account. SMART Credit Plus users are encouraged to keep a sufficient repayment amount in their accounts before or on the payment due date.
For more information on SMART Credit Plus, please visit: https://yomabank.com/smartcreditplus