Myanmar News Updated
Highlight Myanmar News
---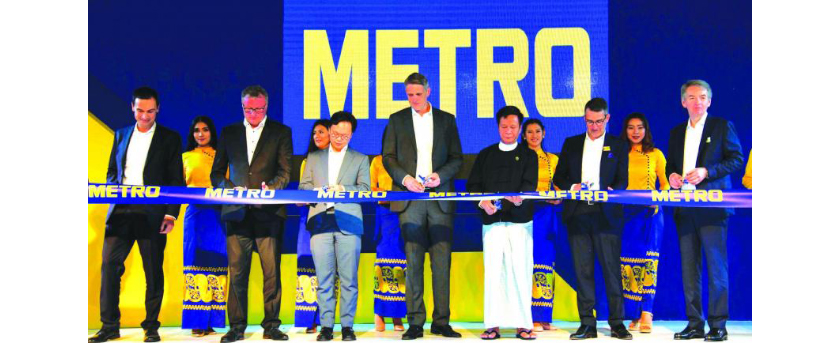 METRO Officially Kicks Off its Wholesale Operations in Myanmar

19/03/2019
AUTHOR: ZIN THU TUN
METRO officially announced its market entry into Myanmar, the occasion marks the 36th country in the German company's international portfolio. Built on its modern warehouse in Yangon and empowered by its efficient digital ordering and delivery services, METRO Wholesale Myanmar is serving local professional customers in the fast-growing hospitality and tourism sectors.
METRO is a leading international wholesale company with food and non-food assortments that specializes on serving the needs of hotels, restaurants and caterers as well as independent traders.
METRO Wholesale Myanmar will help improve the agriculture sector of Myanmar by buying directly from farmers for its B2B customers. In this way, farmers will benefit more from METRO's optimized and efficient supply chain and its B2B customers can enjoy premium freshness of the products. With the ultimate aim of being the "Champion for Independent Business," METRO Wholesale Myanmar passionately serves independent businesses with differentiated and exclusive food assortment, services and solutions. Our motto is - "Delivering Foods directly from farm to table."
"The food wholesale industry in Myanmar offers big potential for METRO and we believe our engagement in the trade sector will contribute to local economic growth including the agriculture, tourism and hospitality sectors, and help upgrade the food wholesale infrastructure sustainably for the local community", said Philippe Palazzi, Chief Operating Officer and member of the Management Board of METRO AG, at the grand launch ceremony today in Yangon.
Distinctive from its operations in other countries, METRO in Myanmar doesn't run stationary wholesale stores, but provides a virtual "one-stop" convenient shopping experience for customers through e-commerce and delivery systems. Central to the wholesale operations in Myanmar is the 5,800 square meter warehouse situated in Thilawa Special Economic Zone outside of Yangon. It is a state-of-the-art facility where incoming goods are received, stored, processed and packed in compliance with stringent quality and food safety standards for delivery to customers.
At present, 300 customers across the country are able to select from an assortment of over 2,000 high quality food and non-food products through METRO's digital platforms such as the website and mobile app for online ordering. Delivery is carried out through a third-party logistics service provider with a fleet of modern temperature-controlled trucks.
In recent months, METRO has developed partnerships with local food suppliers and producers across different regions and states of Myanmar. METRO is buying directly from farmers so they benefit from the optimized and efficient supply chain that the company provides. At the same time, METRO's customers can enjoy the premium freshness of products.
"For us, Myanmar is about partnerships and elevating quality standards. We are driven to give back to the community and to improve the lives of local food suppliers and producers through trainings around food safety, crop production handling and good agricultural practices which allow them to meet international standards. In this way, we will help unlock the potential of the local agricultural, livestock and fisheries sector and foster export opportunities through the firm's international sourcing channels", said Mr. Jens Michel, CEO of METRO Wholesale Myanmar.
"Looking forward, we will look to continually innovate and enhance our e-commerce platform with digital solutions and thereby contributes to our customers' requirements in wholesale and hospitality sector," he added.
Local Workforce for Customer Relationships
Over 90% of the current workforce at METRO Myanmar — approximately 150 employees — is staffed by local talent. Among them, there is a strong and well-trained sales force tasked with building and enhancing relationship with customers. The team guides customers through the digital ordering and delivery processes and promotes food safety, traceability and sustainability.
In Myanmar, METRO will also be initiating its global voluntary self-commitment to significantly reduce its plastic footprint by 2025. The company launched its METRO Plastics Initiative in September 2018, and has set itself the goal of phasing out the conventional single-use plastics and replacing them with reusable, recyclable or compostable alternatives in the coming years.
METRO Wholesale Myanmar was established in February 2017 as a joint venture between METRO and Singapore-listed Yoma Strategic Holdings. For more information about METRO, please visit https://metro-wholesale.com